The Religious Society of Free Quakers formed in 1781 in Philadelphia.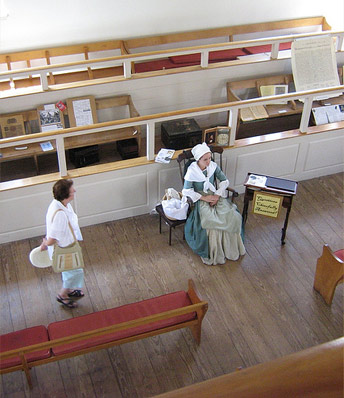 Visitors to the Free Quakers Meeting House enjoy an opportunity to talk with Betsy Ross
At the time of the American Revolution…
… there was a small group of Quakers in Philadelphia who rejected the pacifist tenets of their faith to support the War for Independence. This group formed the Religious Society of Free Quakers in 1781 and two years later built a brick Meeting House. Members of the Free Quakers included those who supported independence such as Colonel Timothy Matlack, Lydia Darragh, Betsy Ross, and Society founder Samuel Wetherill.
In the 1830's the Meeting House closed because of dwindling membership; however, descendants of the founders preserve the Free Quaker mission of support and community aid through a foundation that makes contributions to local non profit organizations. Today the Meeting House, at the corner of Fifth and Arch Streets in Philadelphia, is part of Independence National Historical Park and open to the public.